The Moral of the Story Is ...
One should help others in need, we get the rewards of our helpful acts in return.
The Lion & The Poor Slave
A slave, ill-treated by his master, runs away to the forest. There he comes across a lion in pain because of a thorn in his paw. The slave bravely goes forward and removes the thorn gently.

The lion without hurting him goes away.
Some days later, the slave's master comes hunting to the forest and catches many animals and cages them. The slave is spotted by the masters' men who catch him and bring him to the cruel master. The master asks for the slave to be thrown into the lion's cage.
The slave is awaiting his death in the cage when he realizes that it is the same lion that he had helped. The slave rescued the lion and all other caged animals.
Port Angeles Web Design

---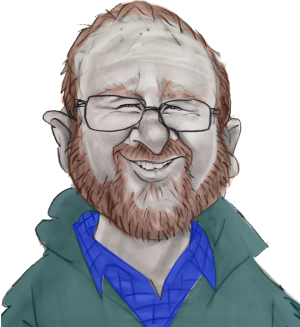 Hi. My name is Doug and I have been providing Port Angeles Web Design since 1998.
As a web designer in Port Angeles, my experience started when I decided I wanted to sell printing from my little Port Angeles print shop across the USA and even to a few other countries.
That was back in the early days of Google. Early enough that a minority of the people I would mention "google" to would ask "what?"
I built several websites, using just Notepad and hosted them on my own, dedicated server. Not many people were doing this yet back then.
Domain names cost a lot more back then, too!
---
Welcome Video Transcript
The video above is transcribed below for your convenience.
Welcome to Best Way Websites!
We would love to work for you and with you! One huge difference between us and all of our competition is our name your price website design approach
You give us your price and will show you your site. You decide if you want to buy it after you see it! It's our way of winning an opportunity to win your business.
We will talk with you so we can understand your business; we will get an idea of what you want your site to look like and what you expected to do for your business; we will listen to you.
Then we'll build a free, custom website demo for you to see. You won't be billed for this demo site.
If you like it, you buy it.
If you don't like it, you don't buy it. and we part as friends.
There is no risk to you.
Register for your free account now. We won't ask for your credit card.
After you complete your personal and business profiles, schedule your call for any day and any time that is good for you.
We care at Best Way Websites.
Welcome to the family!
---

How I Got Started as a Web Designer
I actually got my start for Port Angeles Web Design in print media, doing graphic design work for printers as a teenager.
I got my feet wet in the printing industry in the late 1970s while still in high school, and back then we were still hand-setting a lot of type or using pretty much the first generation of printing plates that used a carbon arc to "burn" the plates and a subtractive chemical to wipe away the rest of the plate that was not to be printed.
In college, I worked in a print shop and did some camera work as well as "stripping" and "plating" but was not running presses.
I started working for sheetfed offset printing companies in the mid 1980s. The big computer thing then was MSDOS!
From Metal Type to Photo Mechanical Transfers (PMTs)
I've done it all. I have used the now antique, amazing mechanical "Linotype" that was like a huge typewriter that was the next step in automation after "hand set" type.
Port Angeles Web Design - decades in the making!
You sat in front of a mechanical typewriter-like keyboard and had to "hammer" keys down to cause metal letters to be released that were then assembled and a mold was made from molten lead. This was then taken to a "windmill" style press for printing.
Then there came another type of "Linotype", which was a more comfortable keyboard that would later evolve into desktop publishing. You would use an "ancient" computer to type the words and use CODES that would add "text decoration" - headings, bolding, italicizing, centering, justifying left or right and etc.
The result was then printed on photon (light) sensitive paper, taken to the darkroom and developed. This was then "pasted" using wax onto an art board and then photographed by a huge camera to make a negative.
The negative was then vacuum-pressed against a metal plate that was coated with a chemical that would harden when exposed to light - this was called "burning the plate."
That plate would be taken to use on the printing press.
From Typesetting Codes to HTML Coding
The use of codes to "decorate" the text, such as for bold, for italics and for underline seemed to me to be very similar to the most basic HTML V1 code.
Of course, there was a lot more than those, but you get the idea.
HTML expanded upon this.
Now the foundation for Port Angeles Web Design is starting to firm up.
I discovered that I actually "knew" some HTML code simply by having done typesetting for the printing industry.
From PMTs and Metal Plates to Desktop Publishing and Paper Plates
The next step in this evolution from print media to electronic media was the development of computers and programs that would replace the previous typesetting.
In the early days, Apple really owned this. The little printshop I was working for acquired a new Mac system that cost THOUSANDS of dollars back in the mid-80s. I think it came with a 300 dpi laser printer.
Then we used a platemaker that would take this positive image created via desktop publishing and a laser printer to make a paper plate that was good for a few thousand impressions on the offset printing machine.
From a Port Angeles Print Shop to Port Angeles Web Design
As I started selling my printing though the internet, most businesses still did not have websites and many of them did not yet see the need for one.
I am so grateful that I could see how print media was going to be taking a back seat to the electronic media and in particular, printing on paper was going to be largely taken over by printing to a computer screen via the internet.
I build several "niche" websites for my printing business and the largest part of my business was out of town and out of state. Some of it was even out of country.
I started offering my Port Angeles Web Design service to my printing customers.
It was not long before this little Web Design Business from Port Angeles was becoming more important than the printing business, especially with the advent of HUGE printing companies pretty much taking over everything. I simply could not compete with them ... and it did not matter, I had EVOLVED with the changing times.
Now, Port Angeles Web Design is my main thing.
I still design logos and offer some print media to my website clients; mostly point of sale pieces like business cards, brochures and mailers.

Port Angeles Web Design